Lubiam
Men's wear collection
Luigi Bianchi Mantova è una linea di abbigliamento classico per uomo prodotto dalla Lubiam.
Ci è stato chiesto di studiare il nome, disegnare il simbolo, il logotipo e il packaging
e di realizzare due volte l'anno cataloghi e le campagne stampa.

Luigi Bianchi Mantova is a men's wear collection. AC was asked to invent the name,
design the logo, the packaging, the symbol and to create and
design the catalogues and advertising that run biannually.
A Family on stage
The third generation of Bianchi's interprets the family clothing business,
which has been world famous since 1916 for its men's collections.
Photo: Settimio Benedusi
© Lubiam Spa
© Artero Consulting
Lubiam, the wizards's show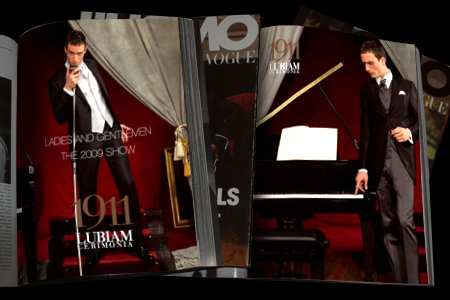 Adv for Lubiam ceremony men's collection
Photo: Andrea Garuti
© Lubiam spa 2010
© Artero Consulting
Lubiam_I punti dell'eccellenza
Lubiam: Corporate and Service Brochure
© Lubiam spa 2008
© Artero Consulting
Protagonist of a perfect day
Catalogue for Lubiam ceremony men's collection
Photo: Andrea Garuti
© Lubiam spa 2008
© Artero Consulting